You aren't ready for this sweet summer wedding at the Homestead at Wilshire Ranch. The Homestead is nestled in the mountains and surrounded by trees. It's easily one of my favorite venues! With a false church front setting the stage for the ceremony site, large trees shading the guests, and the maximum awe factor as the doors open before you walk down the aisle…The Homestead is one of a kind. The staff there are incredibly kind and have everything running so smoothly. Every wedding here is a unique and magical experience.
Oak Glen is known for its fall season and the place to be for apple picking (and apple pie). Although fall is a time of year it really goes all out, it really was so beautiful and green for this summer wedding. Oak Glen is such a special spot (check out another summer wedding at one of my other favorite venues, Serendipity!)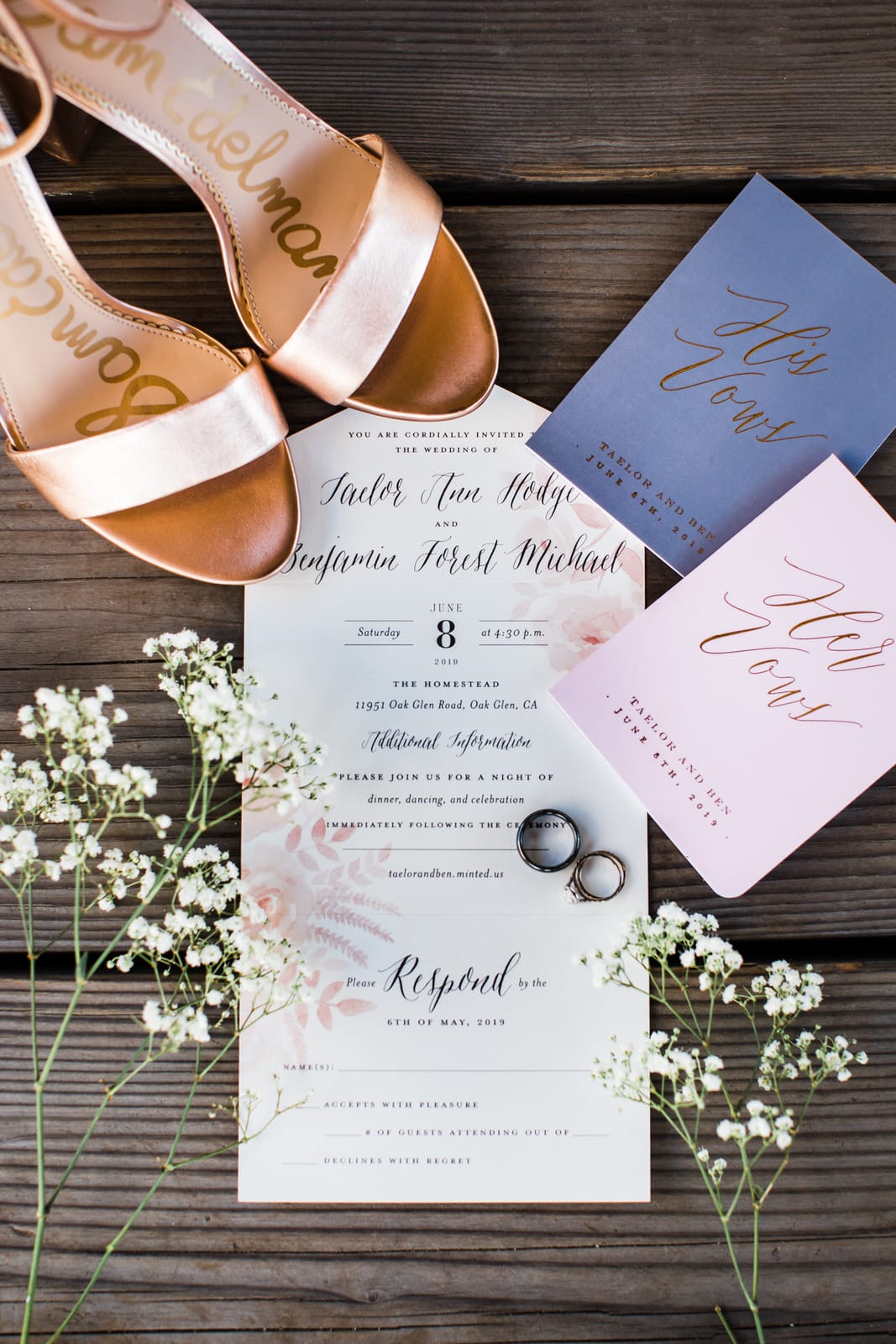 After a tender first look with Taelor and her dad, Ben and Taelor had a "first touch" instead of a first look. It was very entertaining as Ben decided to see if he could pick up his bride without seeing her. Once the time ummer Wedding at the Homestead at Wilshire Ranch arrived, the doors opened and Taelor walked in to a collective gasp from her family and friends. And as for Ben, well it looked like the sight of Taelor walking up the aisle made the ground go out beneath him. Sweet Taelor said her vows loud and clear and Ben had everyone in tears when it came time to say his.
Ben and Taelor are good friends of mine. In fact I've been booked as their wedding photographer before Ben was even in the picture! They met the old fashioned way…on tinder. But when Taelor started telling me about Ben, I knew this guy was different. Taelor is a die hard romantic who has such a sweet and trusting heart. For the first time it was evident that this man would be the one worthy of all of that. To say I shed more than one tear during this summer wedding at the Homestead at Wilshire Ranch is an understatement.
Ben's groomsmen had everyone laughing so hard. The jokes, tender group hugs, and hilarity never stopped with those guys. At the reception, everyone's dance moves were split your pants impressive. No seriously. One of them split their pants. We have the pictures to prove it.
Above all else, I hope you see the smiles of pure joy throughout the night. That giddy "we got married" feeling never wore off and it was everything and more than they ever hoped for. Taelor tells me she still gets told how fun her wedding was. So give all sorts of love to this Summer Wedding at the Homestead at Wilshire Ranch.
I'm including the links to their engagement session here and the proposal blog post here. If you wanted me to get really crazy we could go all the way back to Taelor's senior session but I'll spare everyone that!
Venue: The Homestead https://homesteadoakglen.com
Hair and Makeup: http://www.privebeautygroup.com/portfolio/bridal