You're going to fall in love with this fall wedding at Milagro Farm Winery! With this being my first time at the venue, I was taken in by the incredible trees, the rolling green hills, the massive lake, and the fall foliage in the vineyards. The ceremony site faces two massive trees that make a natural arch as the sunlight streams through their branches and down the gravel road behind. Just beyond is a stunning lake surrounded by trees and a little further up are stretches of vineyards that were still changing colors with the season.
Zachary got ready in the coolest stone cave at the venue that I can only guess was once an epic wine cellar of sorts. The shenanigans while he and his friends got dressed were off the charts and had me cracking up. After hanging out with all his friends while getting dressed, we ushered everyone out for him to have a private moment with his dad. With just the two of them, Zach showed his dad his boutonnière with the pictures of his recently passed grandparents. One being the grandmother whose engagement ring he proposed with. This moment with his dad was one of the most emotional moments I've ever witnessed…and it was only the first of many tearful moments during the day. Trust me, it was a day full of laughter and tears (mostly Zach's).
For the first part of the morning Emily got ready at the cutest little country airbnb on a dirt road. Later everyone moved over the cottage at Milagro Farm Winery. Emily wore the most stunning handmade dress that was made for her by her mother. Every detail on it was thought out and so special. The craziest part of it is that she did this long distance! Most of us can't even imagine making a wedding dress much less making one without fittings. As her mom helped her into this dress, they too shared an emotional moment before she buttoned up the open back of the intricately detailed dress.
When it came time for the ceremony at this fall wedding at Milagro Farm Winery, the light came through the trees behind the ceremony site in the most incredible way. It cast a truly beautiful glow behind Zachary as he saw Emily for the first time, walking up the aisle towards him. Since Zach is a gruff softie, his joyful emotion at being able to marry the woman of his dreams was apparent for everyone to see. He was also mic'd up so the noises he made as he tried to control his emotion was audible. It became a funny trend the entire day for this gruff softie. He'd get emotional and then try and hide it unsuccessfully with lots of grunting noises that would make the entire wedding laugh and finally just jokingly yell at whoever made him cry (you'll see it again during the speeches).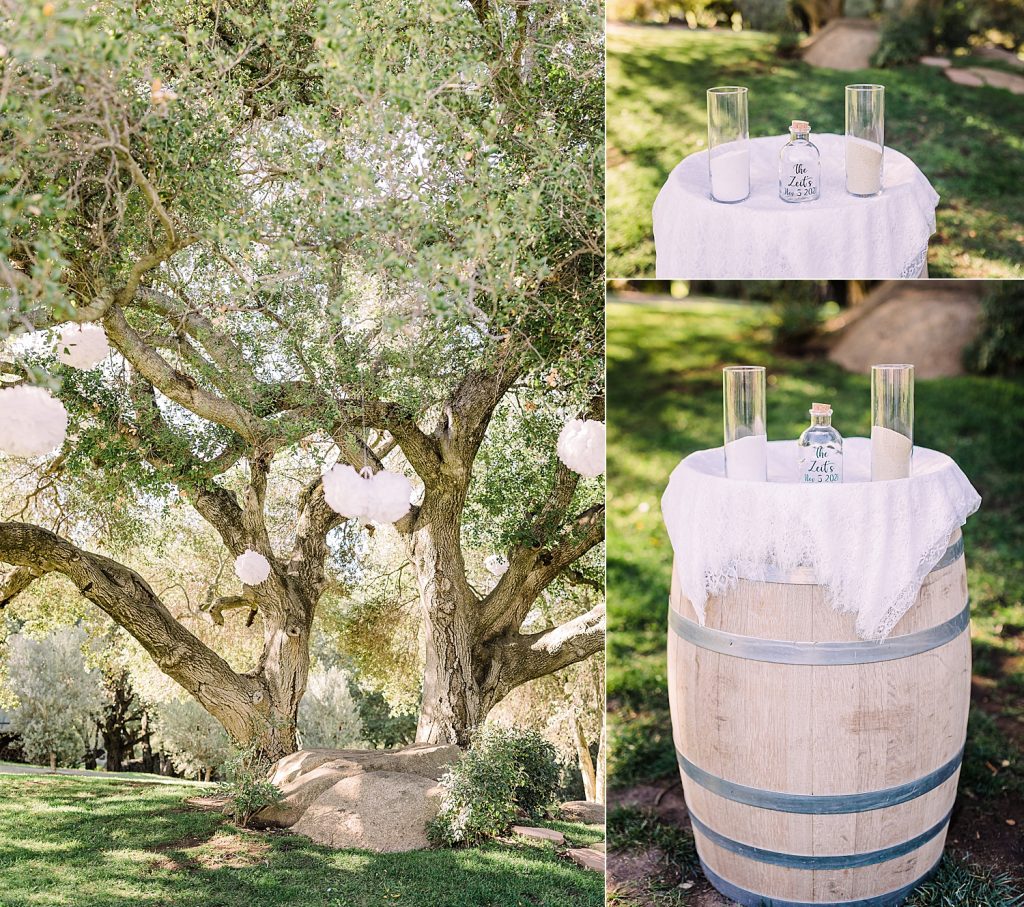 As if I couldn't love Emily more, she kicked off her shoes when it came time for our photos and carried a Blue Moon in one hand as we adventured around Milagro Farm Winery just in time for the sunset. Right up until the very end she eschewed the golf cart to walk barefoot from spot to spot. In between locations, Zach would yell out to no one in particular "she's my wife!" and "we got married!" The planner and I would be the only ones there and he'd just look around and yell "this is my wife!"
Finally Emily put on her shoes and the wonderful planners for this fall wedding at Milagro Farm Winery had us hop on the golf cart to off road/race into the sunset. Another one of the unbelievable aspects of this venue is the incredible sunset view over hills of vineyards and they whisk us off to the perfect spot just as the sun starts to dip down.
After hanging out with the raucously fun wedding party all day, I knew that the reception would be a good time and it did not disappoint! With tearful speeches (mostly Zach and his gruff crying yelling at anyone who made him cry), the to die for, delicious pizza dinner, and a milk and cookies bar for desert it was off to a great start. But the party truly got started when Emily's sister and maid of honor did an EPIC solo dance in her sparkly Michael Jackson outfit to kick off the dancing. The reception went WILD over it (take note of the standing applause and hollering photos because she was a HIT). She made sure that dance floor was hopping the rest of the night and after that you couldn't keep anyone off the dance floor! We wrapped up the night with a semi-private cake cutting that ended up in a legitimate stand off between Zachary and Emily. It got close to being hilariously messy but thankfully was settled peacefully.
As I packed up to leave for the night, I saw the two of them off to the side where no one realized they were having an emotional moment together as they soaked in the entire day, holding each other and pressing their foreheads together. As tears fell freely for both of them, friends and family dancing or walking by unaware, I snuck in one last photo without disturbing the precious emotional moment.
If you loved this fall wedding at Milagro Farm Winery check out this Sacred Mountain wedding and this CRC Ranch wedding!
Vendor love! Caterer- Stella's Pizza Pie Videographer- Walkrich Signature Events Venue- Milagro Farm Winery DJ- Sound Design Entertainment