I loved this San Moritz Lodge Lake Gregory wedding and the entire elegant, vintage details. In fact, I love this venue so much that I made it one of my favorite mountain venues in the Lake Arrowhead area and wrote an entire blog post about it! Our Lady of the Lake Church and San Moritz Lodge are both places I'm familiar from living on the mountain, but I have to say this was beyond anything I have seen before.
San Moritz Lodge wedding is both elegant and rustic with the most gorgeous details that perfectly suited the theme of the entire day. With hanging chandeliers, strings of market lights, a massive rock fireplace, and giant windows facing the lake and the forest…it's all enough to take your breath away.
So fun story, Suzanne's initial email to be had the subject line "Please be my photographer!" so of course I immediately loved her. Who doesn't want to respond to an email begging them to be their photographer. She told me about their mountain wedding plans and the search for venues and I was able to share all my mountain knowledge with her. They had the church and once they decided on the San Moritz Lodge in Lake Gregory, they rode in from Las Vegas on their motorcycles (have I mentioned how cool they are?!?) and I drove up the hill to meet up. After emailing back and forth for so long, it was such a fun time meeting them in person!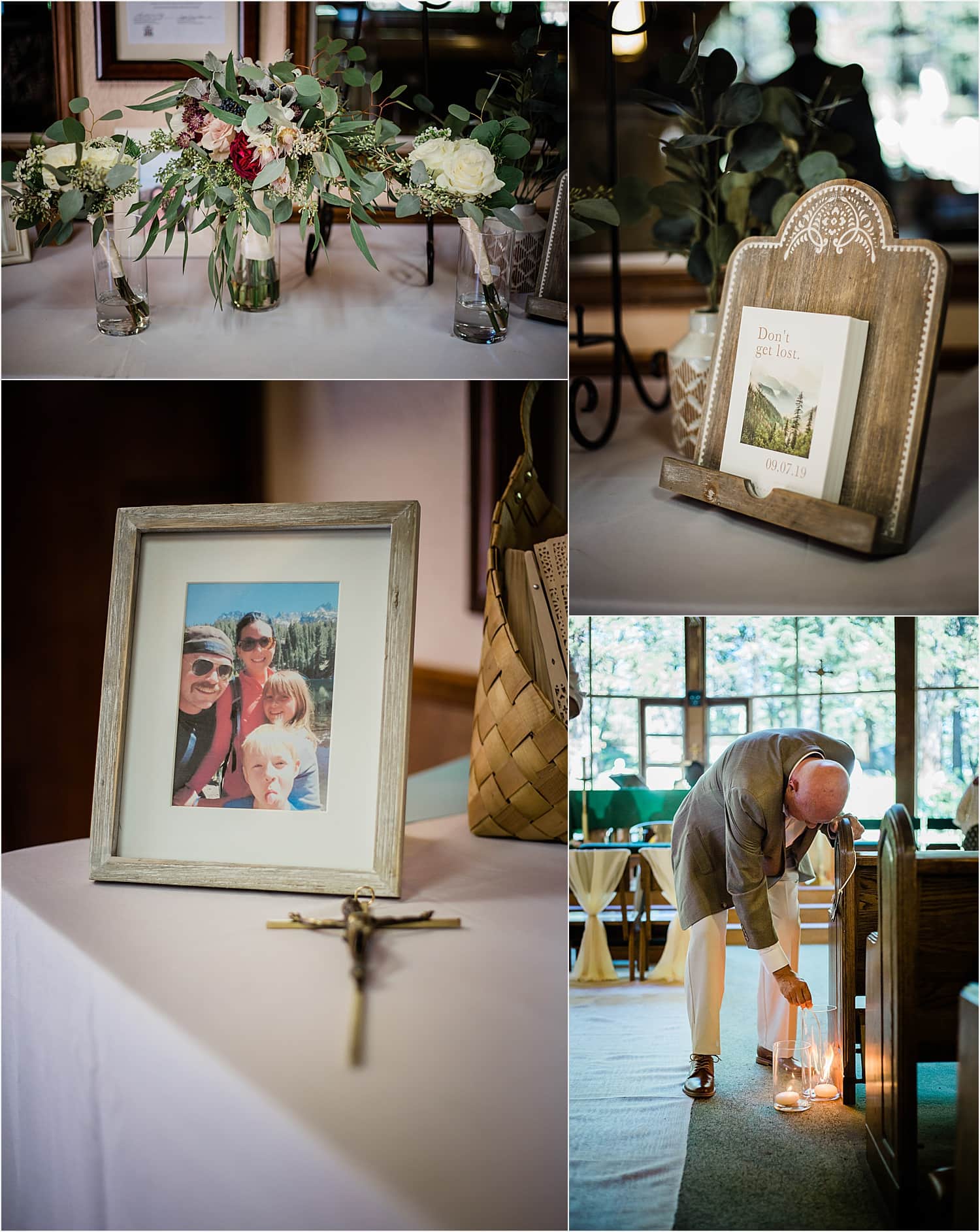 Lake Gregory has a really great walking path around the lake (that I used to run back when I lived up there). It provides tons of beautiful little corners to take advantage of all the beauty surrounding San Moritz Lodge and Lake Gregory. Suzanne was a pro hiking along the path in her pretty wedding shoes, more than willing and excited about all the suggestions I had. Did I mention how much I loved them?
To tell you how awesome they are…Harrison and Suzanne are both police officers in Las Vegas. They ride motorcycles together. They travel with a traveling dinosaur named Gary Poppins who just so happened to live his best life on their Lake Arrowhead wedding day and has his own instagram. I linked that below because it's worthy of some stalking. Harrison's son and daughter were part of the wedding (including Gary Poppins assisting in the ring bearing duties).
As we packed up for the night, Suzanne asked me if I would take a photo of her in the fountain and like the amazing adventurer she is, she jumped into that fountain in her wedding dress. It turns out that this is a habit of hers any time she can jump into a fountain she does! As someone who has jumped in a fountain or two in the past, I wholeheartedly encouraged her. Basically Harrison and Suzanne are ridiculously awesome and I'm sure you'll agree! And if you loved this San Moritz Lodge Lake Gregory wedding then check out another mountain wedding at Pine Rose Cabins.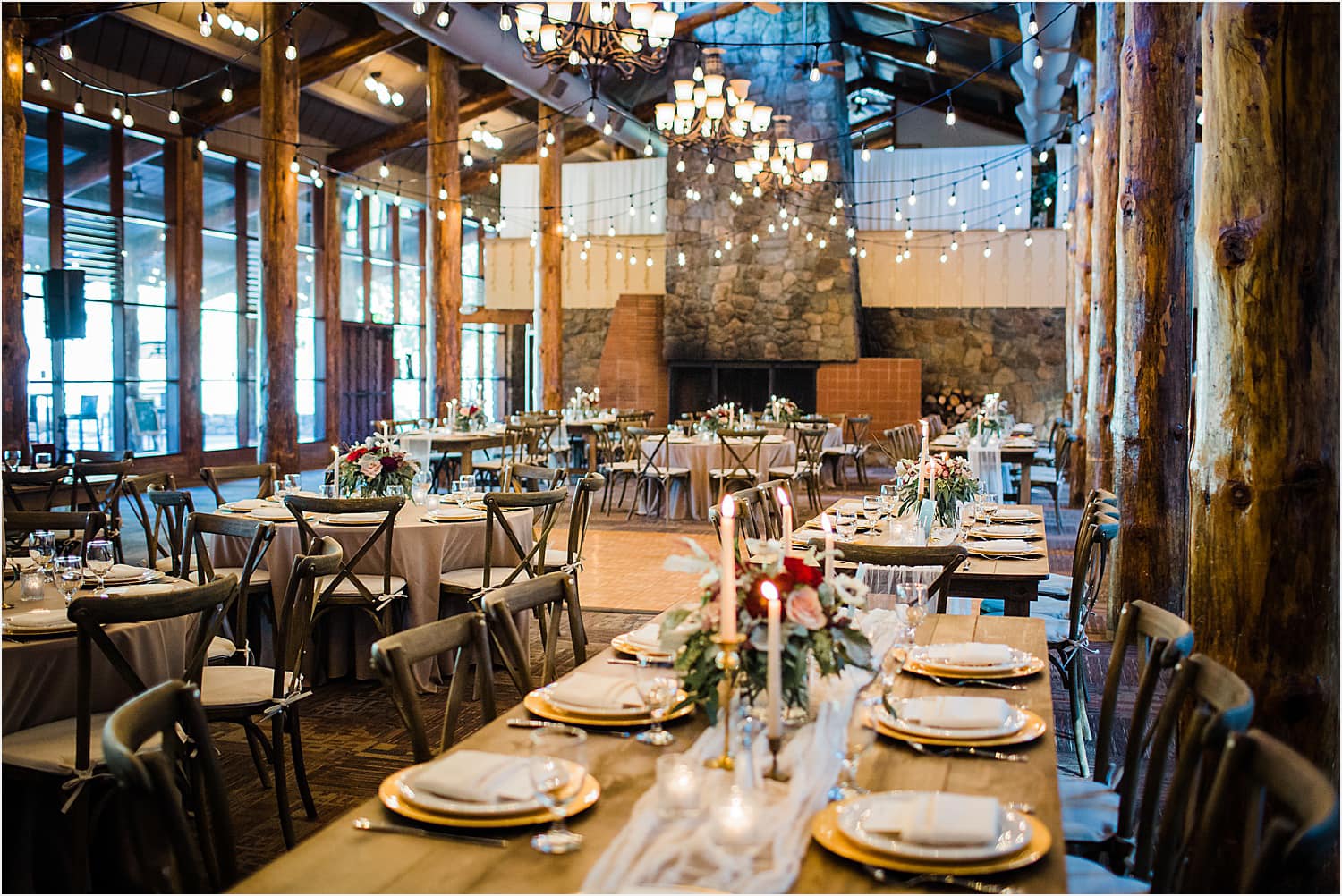 Reception: San Moritz Lodge
DJ: KSDJ Professional Wedding Service
Florist: Designs by Kelly Clark
Baker: Espie Murray
Traveling dinosaur: Gary Poppins
And another Lake Gregory wedding!