I'm back with the best Lake Arrowhead venues for intimate weddings! Do you want a mountain wedding but don't want it to be a big affair? A lot of the venues in Lake Arrowhead are geared towards having a big party surrounded by the beauty of the forest. But never fear! I have a few hidden gems to share with you to make your search a little bit easier.
And don't forget to check out the best venues in Lake Arrowhead here if you want a bigger wedding or a big venue that might have an option for a more intimate wedding!
Willow Woods in Skyforest
Tucked away behind LouEddie's Pizza in Skyforest is the sweetest little venue, Willow Woods. Under a canopy of dogwoods and pine trees are a collection of historical cottages and cabins from a logging camp built in the early 1900s. In the center of those cabins is a ceremony site with a waterfall backdrop and a natural branch arch. An open space by an ivy covered, stone cottage provides the perfect intimate reception area under strings of market lights.
There is something dreamy and set apart from the rest of the world about Willow Woods. In the distance you can hear the bustle of LouEddie's Pizza and Brewery but there is a serenity once you walk through that archway into the venue. The laughter and chatter of the restaurant somehow muffles and feels far off, giving an intimacy and richness to any wedding. Time slows down, bringing the joy of not rushing and being fully present during your wedding. As someone who has been to hundreds of weddings, I have to say that there is a different pace to this venue that is truly something special.
As an added bonus, LouEddie's can also provide the pizza and beer for your wedding (and let me tell you that this isn't any normal pizza and beer). Imagine it, a warm summer reception under the market lights and surrounded by trees. Your closest friends and family are chatting as you hang back just a little and take it all in.
Check out a wedding at Willow Woods!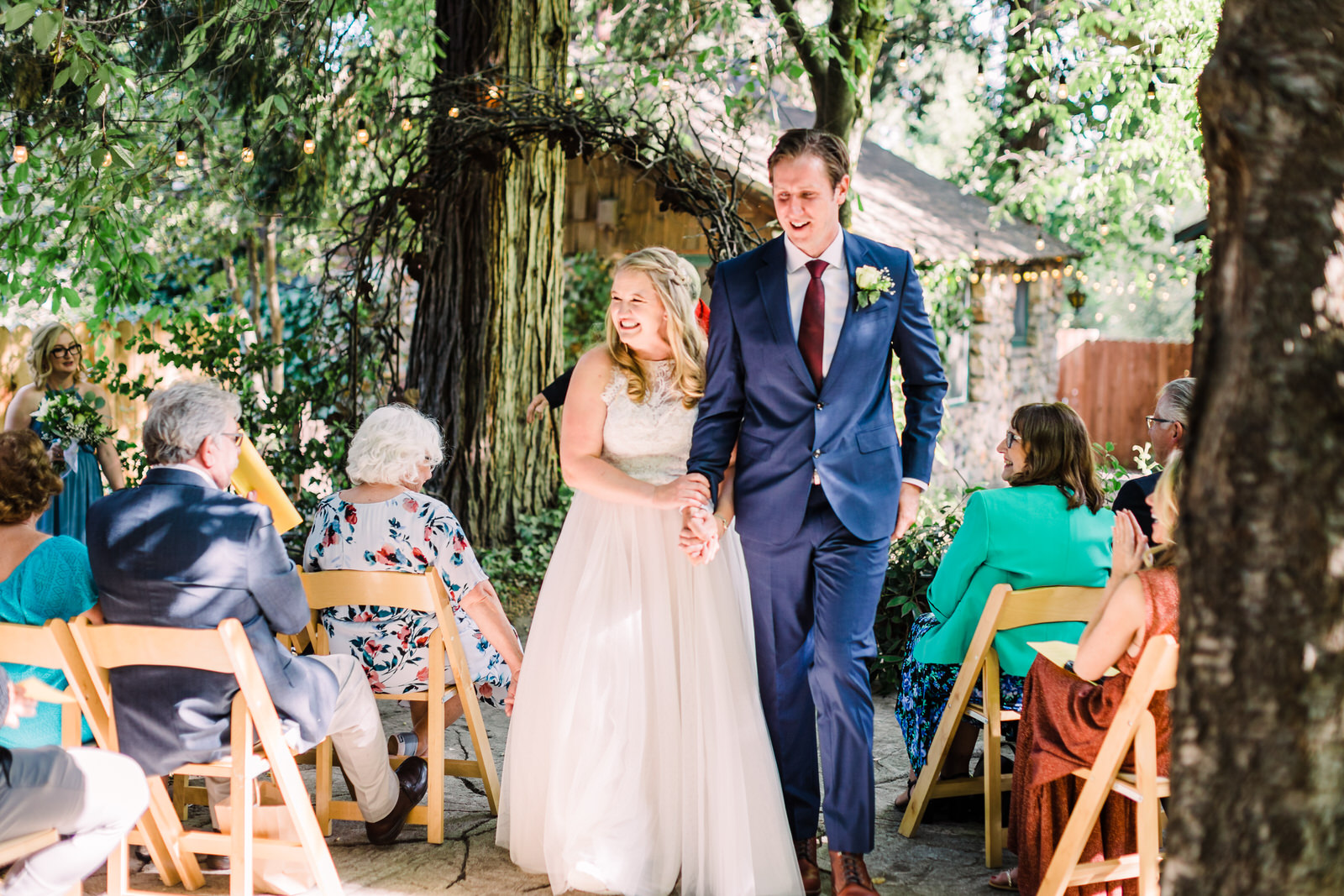 St Richard's Church in Skyforest
A bit newer to the wedding venue game, St Richard of Chichester Episcopal Church is a pretty little venue right off of Hwy 18 across from The Sky View Inn at Lake Arrowhead. Ceremony options are either inside the beautiful chapel or in the prettiest little garden set on the hillside. The open reception area is surrounded by evergreen trees that the light of the setting sun shines through as you share your first dance.
Here's a wedding at St Richard's with the ceremony inside the chapel and another in the sweetest little garden!