Marie reached out to me mere days after Devin proposed in Las Vegas and with a shared love of breweries, we started dreaming up our Brewery Lake Arrowhead engagement! While you may typically look at my engagement sessions and see mountaintop forests or rolling hills and golden light, I love to bring in aspects that make a couple truly them. For example, check out this home engagement with home cooking and this coffeeshop engagement where we incorporating a little piece of who they are together. Marie told me that they love to go to new breweries together and are even getting married in a German brewery in Las Vegas. A mountain brewery was a perfect was to pull in that part of their relationship while still celebrating the beauty of nature.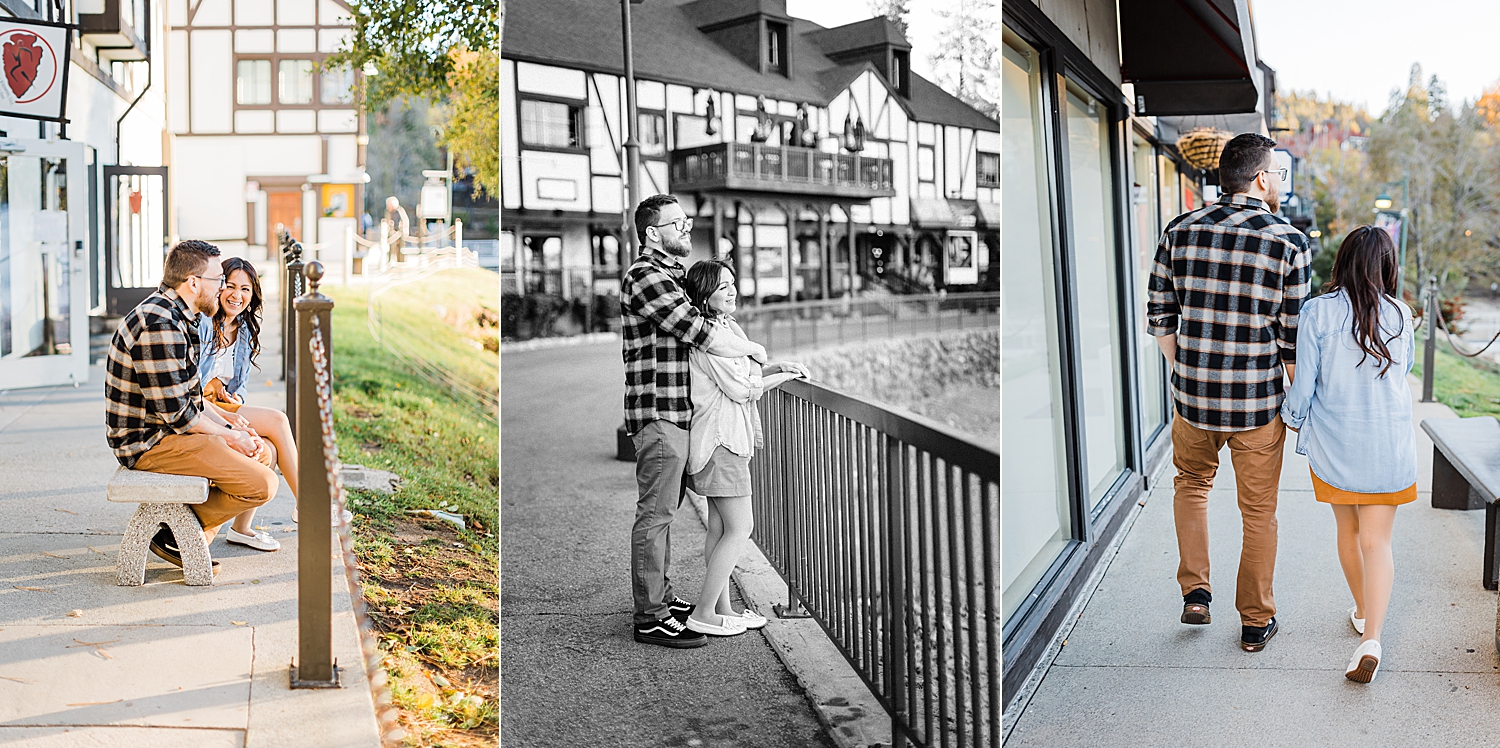 At first I suggested the Idyllwild Brewpub as it's such an incredible spot (and the reception location for one of my favorite Idyllwild weddings) and in my search realized that my hometown had a brewery I had never been to! With the lure of a new brewery to enjoy our decision was made to have ourselves a beer at the Lake Arrowhead Brewing Company! Marie warned me beforehand that she's fairly self conscious in photos and Devin isn't a big fan as well. I reassured them that this would be painless and fun.
Being a chilly weekday we had the Lake Arrowhead Village all to ourselves to explore for the first part of our session. We walked around the lake, enjoying the fall colors and crisp air coming off Lake Arrowhead, giving Devin and Marie plenty of opportunity to cuddle together for warmth. They told me the story of how they met and after some time started a long distance relationship and eventually had a baby together. Devin is from Wisconsin so we chatted about all things Wisconsin and the differences in living in Wisconsin and California.
Next we headed to the Lake Arrowhead Brewing Company where they shared a flight and they bought me a beer to enjoy while I tried to be casual about photographing them in a public space. The sun started to go down on our brewery Lake Arrowhead engagement and as we headed back to our cars, they both told me that they had so much fun and at ease. It felt more like hanging out with a new friend than a camera shoved in their face. Now let me tell you that it never gets old hearing that! I love when couples have fun and feel like themselves.