The original plan for this this glorious spring botanical garden wedding at the Claremont California Botanic Garden was a Christmas wedding at the beautiful Mitten Building in Redlands. As plans often do, things changed and Annie and Paul were walking in one of their favorite places when they saw a bride and groom. One thing led to another and a new plan came together perfectly.
The weather was perfect and all of the vastly different plants, trees, and flowers of California surrounded the hidden little ceremony spot for this Claremont California Botanic Garden wedding. As Annie walked up, Paul teared up but as soon as she smiled they both had grins across their faces.
During the getting ready, Annie had mentioned that she was sure that they had grabbed her vows. When the time came it turns out that wasn't the case. Instead, head held high she spoke from the heart and never once faulted as she described their connection and love. Not one to let her go alone, Paul opted to ignore the vows he had in his pocket and also spoke freely of their meeting and life together. Every single person watching had tears in their eyes and we all agreed that forgotten vows had never been so perfect.
A small fountain created a stream that fed into a pond behind them. During the ceremony the sound brought a sense of peace and stillness. And as they were declared husband and wife, Paul jumped over the divide to kiss his bride.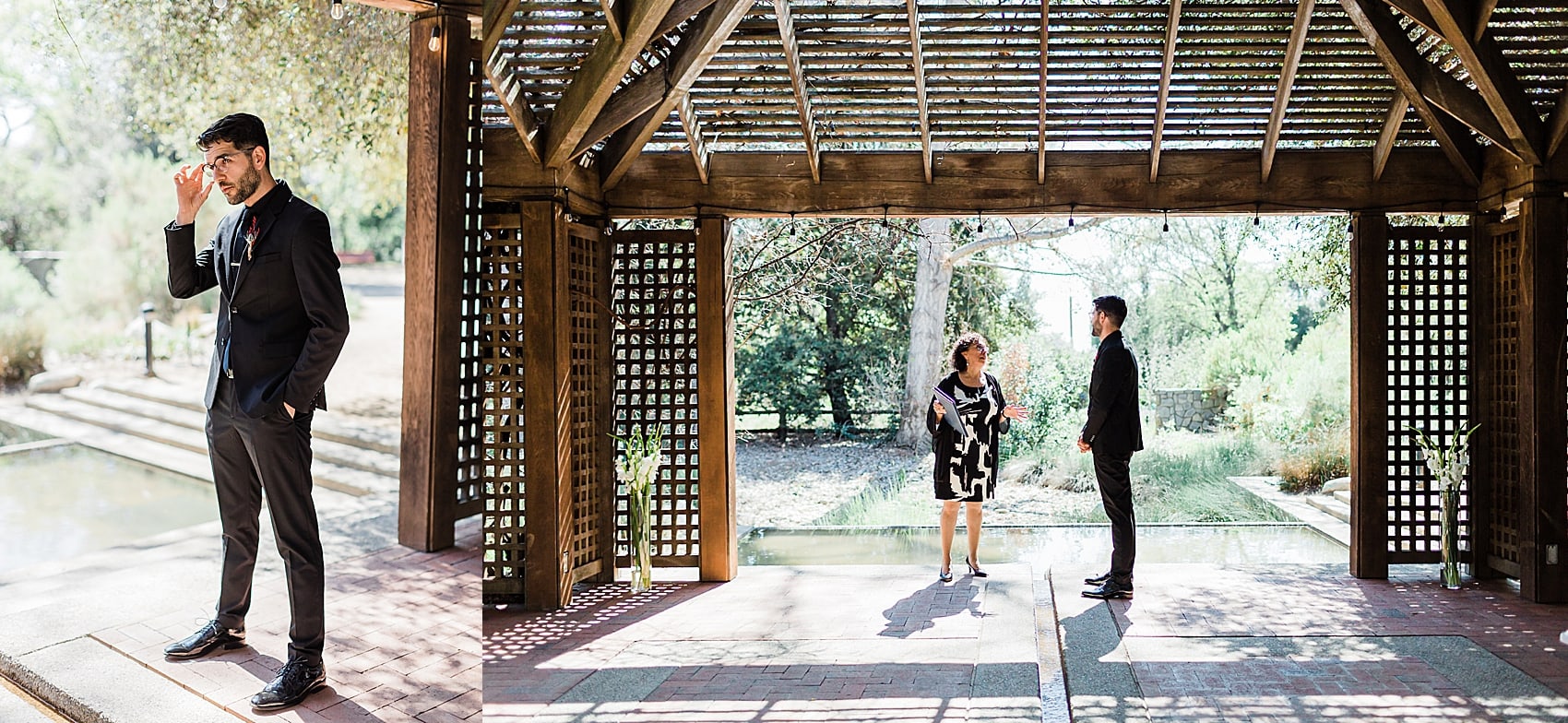 With free rein of the botanical garden, we set off on a midday adventure. Not every couple can get so many different diverse backgrounds for their portraits, but with this Claremont California Botanic Garden wedding there was everything California has to offer within walking distance. We frolicked in the redwood forests, laughed in the California wildflowers, and even found a twisted manzanita (Annie's favorite!) for them to make out a little.
Afterwards, we all headed to his parents house for the reception where they were greeted with so much joy and love. As each toast said, this might not have been the wedding they originally planned…but it was the wedding they were supposed to have. Each person spoke of the love that Annie and Paul found and the light they each have and have for each other. The love and laughter that surrounds these two was palpable.
If you liked this California Botanic Garden wedding then you might like this magical garden wedding!
Cake by Kirstin Bliss
Wedding dress designed by Reev Bridal