What better way to celebrate an engagement than a Skyforest winter engagement with the CUTEST baby everrrrr?! After many years together and the bringing the most adorable little girl into the world, Mike proposed to Kimberly one day as she was putting the baby to sleep. They fell in love with SkyPark, one of the most stunning venues in Lake Arrowhead (but honestly there is no going wrong with mountain venues)! Skypark is part of Santa's Village and has really become such an incredible venue in the last several years. Not only is it a stunning spot to get married, it also offers a great many activities like rock climbing and RV camping! There's even a roller skating rink!
Kim reached out to me and we started bonding over our love for the mountains. It seemed only fitting that we plan their engagement session in one of the many secret spots I know while they made a visit to Lake Arrowhead to finalize wedding details for their summer brunch wedding at SkyPark.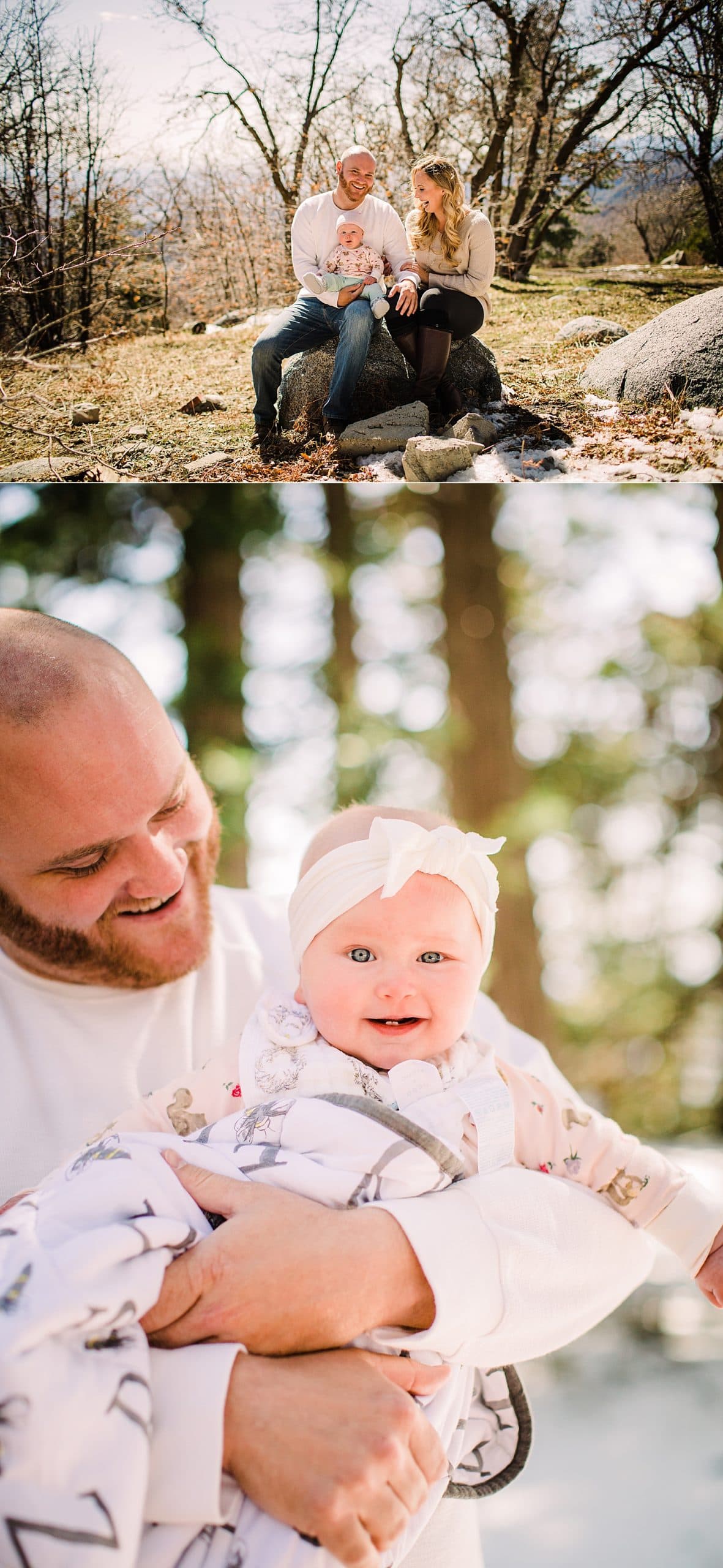 The weekend of their engagement session finally arrived and so did the snow!! Since they were staying up there they didn't have to worry about chain control and we watched the updates to see if I would make it up as well. That morning there was chain checks at the bottom of the mountain and Mike woke up to snow covering everything. We thought that the session would have to be rescheduled…until the snow magically stopped. By the time Kim took a look outside it was almost completely GONE! None of us could believe it (and I grew up there)! I drove up the mountain to find perfectly clear highways and the only patches of snow to be found were deep into the secret spot I brought them too!
Since they had sweet Maddie with them and she knew that she was the star of the show, we started out our Skyforest winter engagement session as a mini family session. She was less than thrilled when we put her back into her off-roading stroller to finish off the session with her mom and dad. We had a blast running around in the fresh snow and mud before deciding Maddie was over it all!
Check out Mike and Kim's Skypark brunch wedding!