Alrighty my friends I'm going to bring up some tips for your wedding day in this wedding guide. Before you dig in, don't let these wedding tips stress you out! This wedding day guide is entirely meant to help make your wedding less stressful! Some won't apply at all and and some you won't like. Feel free to pick a few and leave the other ones behind!
Keep everything you're going to need for the day in one central spot
Start a tote bag or box with all the wedding day essentials and start it early. Got your shoes already? Jewelry? These all need to be put together so you or someone else can easily grab it on the wedding day. I suggest one central spot and then dividing up and organizing it for what you will need to get ready, what your partner will need to get ready, and what your wedding will need. Outsmart yourself because something will be left behind.
Here's some examples of things that have had a panicked scrambled to find after they've been misplaced or forgotten…
Getting ready – shoes, jewelry, undergarments, guys remember to bring a belt and your fancy socks, makeup, letter to spouse or wedding day gift, emergency kit, marriage license, rings, invitation/ring box/anything you might want to be photographed during the getting ready/details portion of the big day.
Wedding – any diy details that your wedding might have such as center pieces, gifts for guests, signs etc. Keep it organized, keep one reliable person in charge of transporting it.
And put someone else in charge of some of this! Make a list and divvy up responsibilities. You don't want to be handling setting things up, finding things, or answering a million questions when you're getting ready!
Keep the room you're getting ready in nice and tidy
There might just be you or there might be you and twelve other people but getting ready has the possibility of becoming a stressful, hot mess. If you connect with everyone beforehand about keeping the rooms neat it'll not only help your awesome photographer take beautiful photos (hi) but it'll also help to make sure nothing goes missing in the chaos. With more people getting ready, things are shuffled, left out, and possibly moved by the photographers to make room.
And while we're at it…if you're getting married in hotel rooms remember to let your photographers and videographers know the room number as soon as you get it. If not they'll be wandering around the lobby trying to get ahold of you. It's a whole thing and in fact I once followed a group of bridesmaids in robes trying to find out if they belonged to the same wedding I did. It's way creepier (and harder) to follow someone if you're hauling a suitcase or two of camera gear with you.
Have an emergency kit prepared
Just in case put together a little kit for getting ready emergencies. The hope is that you never touch it but better to be prepared! A small sewing kit, a tide to go pen, makeup wipes, scissors, etc come in handy more than you'd realize.
Have your rings cleaned
You can either take them to a jeweler to have them professionally cleaned or you can even use dish soap (it's wonderful at taking off grease and dirt). This is such a little thing and might even go unnoticed. Your photographer on the other hand is going to be all up in those rings to take their photos. Even if they aren't using a micro lens to get some massive ring photo, dead skin, oils, and dirt can make your beautiful rings dull and kind of grody.
Have your people in their outfits
Anyone that is helping you (parents or wedding party) get ready should be in their fancy outfits when they help you get ready. I'm as pro sweatpants as it gets and I'm anti staging moments, but it can detract from the photo if the person helping you tie your tie or put on your necklace is mid-outfit change.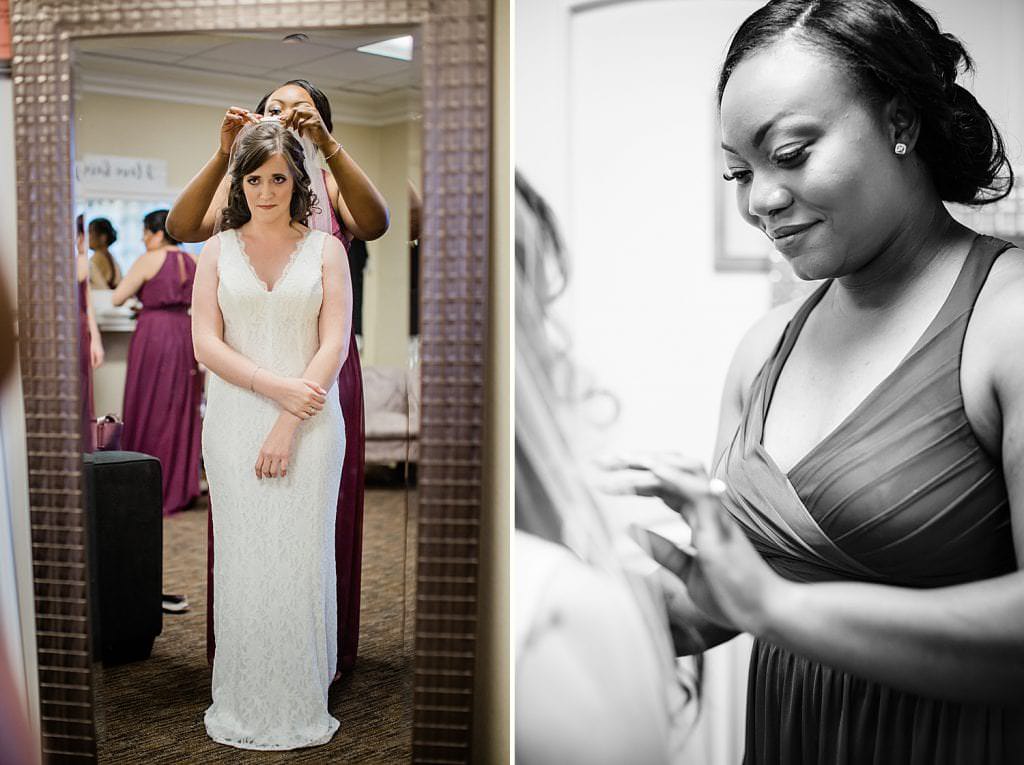 Don't forget mom!
If your mom is there, she will be running around trying to help. Make sure you take a photo with her at some point. It's one of the most commonly missed photos. And while on that topic, hug your parents if they're there and you have a good relationship with them. We'll get a formal photo with them of course but so many don't have their parents at their wedding so take a moment together to remember and savor.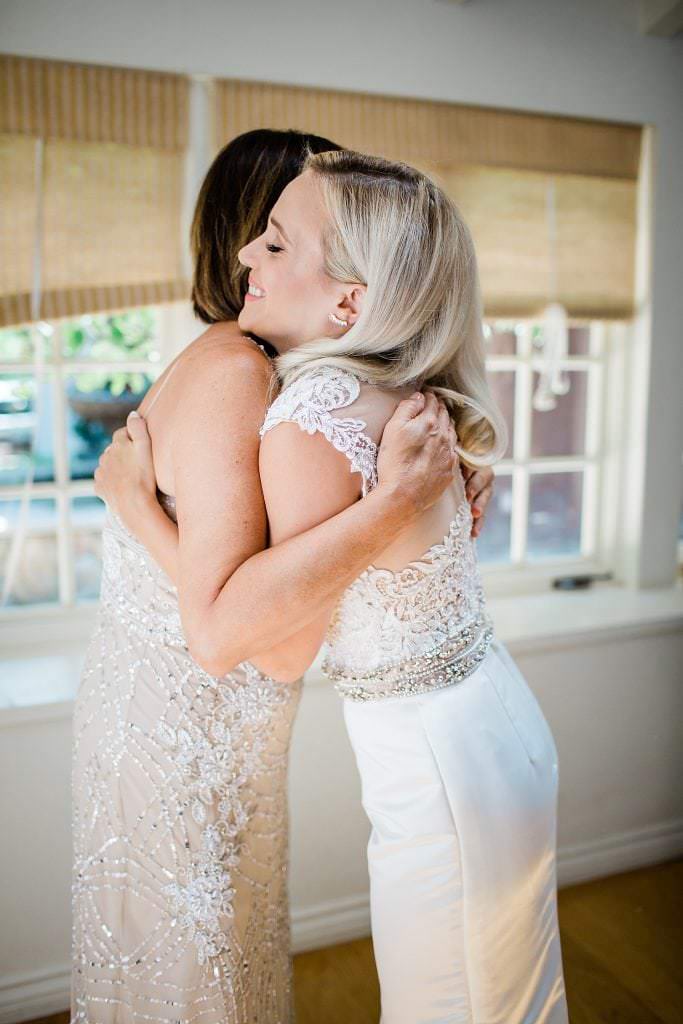 Pad any hair and makeup time on the timeline
Out of all the wedding day tips, this will help more than you realize! If this applies to your wedding, keep in mind that it always takes longer than anticipated. Hair and makeup is an art so give those artists some extra time. If doing your own hair and makeup, give yourself time and several practice sessions beforehand.
Keep drinking the night before to a minimum
No one looks cute after a night of drinking. No amount of editing will fix a hangover.
Go to bed early
No one looks cute after only three hours of sleep. No one feels cute on three hours of sleep. If your wedding has a lot of setup needed you might have to delegate so you can call it quits early and get some much needed sleep.
Have breakfast
Hanger, nerves, stress, and getting ready mimosas might be a tricky combination. Something light for breakfast will help! And while we're at it, make sure you sit down and eat together at your wedding. It can be a moment of calm in a whirlwind day.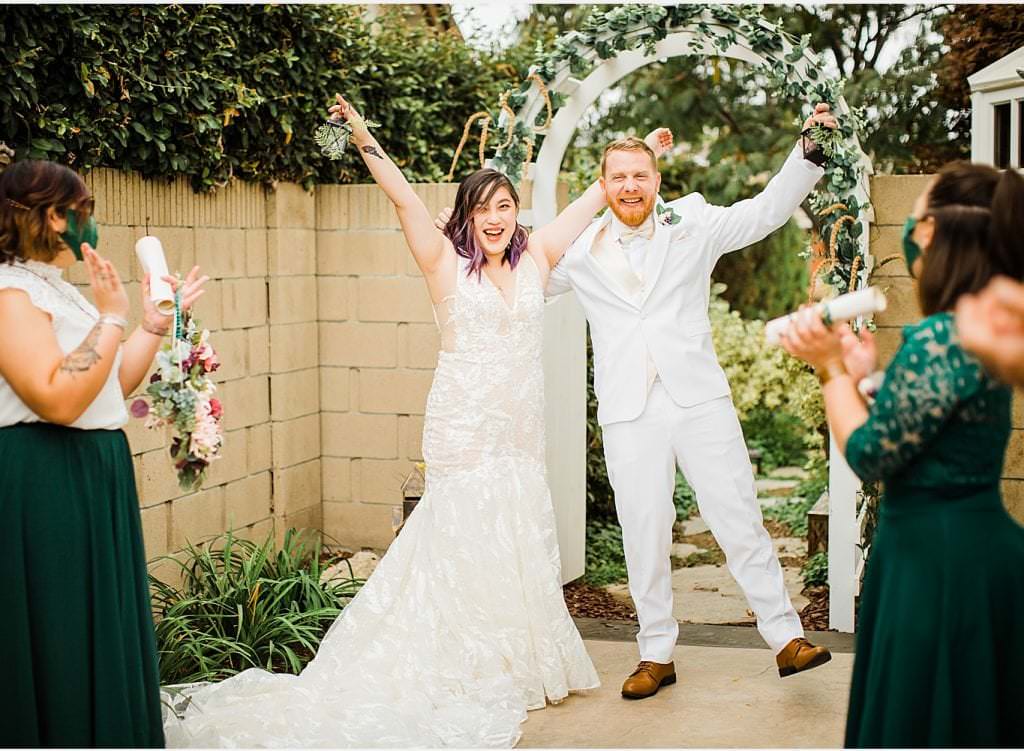 Wedding day ceremony tips
If bouquets are included, hand them over to someone once you make it down the aisle. You can't hold hands during the ceremony and balance flowers at the same time and my guess is that you'd rather be holding hands.
If a dress has a train, have someone straighten it once you're up there too.
When you have your first kiss as a married couple don't forget to linger and then kiss again. You don't have to full on make out but a long kiss or two means your photographer can get the best photos.
A poorly placed microphone or a well meaning guest with a cell phone might block your first kiss photo. These are things to keep in mind.
And walking back down the aisle? Just feel it. You got married! Dance, wave hi, kiss at the end of the aisle. Soak in this moment.

Things to just say no to (or use moderation with)
Hair ties on wrists
Keeping cell phones, keys, knives, flasks, etc in pants pockets during the ceremony and formal photos.
Self tanner and body glitter – it doesn't always photograph quite as well as you would like it to so a little goes a long way.
Try to avoid getting a sun burn – I know no one sets out to get a painful burn or heavy tan lines the week of their wedding, but sunscreen is yours and your photographer's friend. Editing these out can be difficult and in some cases impossible.
For backless and strapless wedding dresses – you may want to forgo wearing a bra as you get ready to avoid lines and indentations in your skin for the rest of the day.
Writing your vows the day of or the night before will stress you out! Try and get those done early (and put them in your getting ready tote so they don't get lost). Also write them out on paper or in a booklet unless you want to be pulling your cell phone out and reading them during the ceremony.
Using makeup to cover tattoos can be tricky. Most of my couples love their tattoos but some more formal weddings or cultures might want them covered. Research makeup to avoid getting it on clothing or having it look obvious.
But the most important wedding day tip?
This is my most important tip for your wedding day.
Be in the moment. The little stresses don't matter. Focus on each other and the people you asked to be part of such an important moment.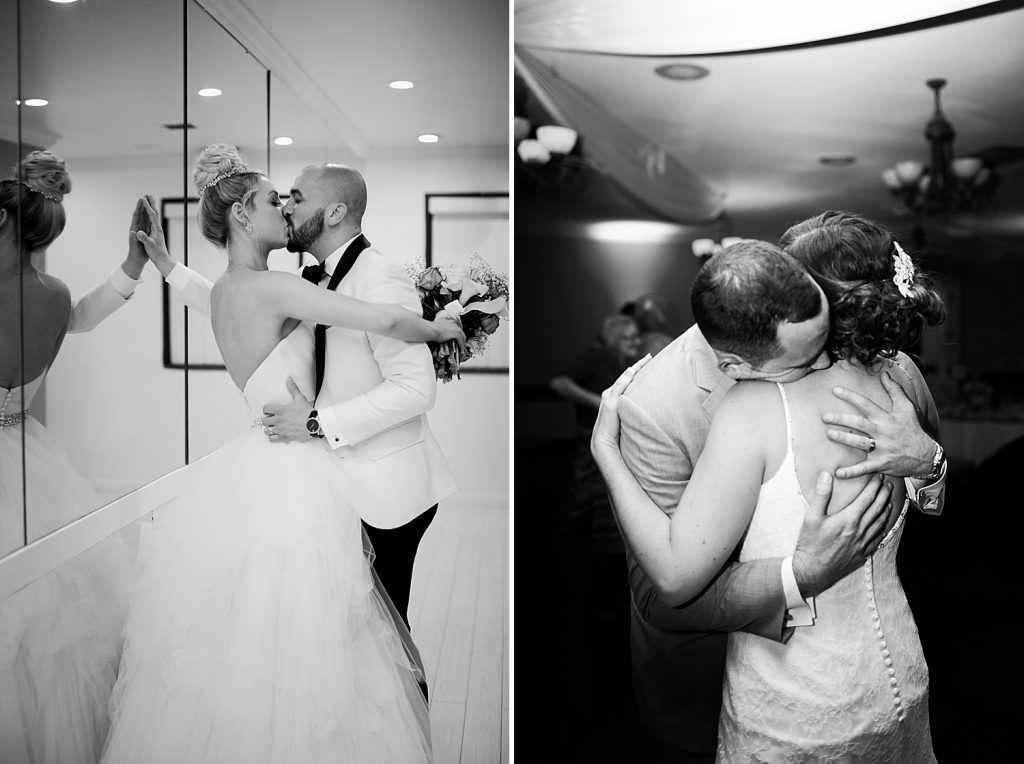 Want more wedding day help? Check out this blog post about having a first look!